Buzz is the secret ingredient that improves every marketing campaign; this is especially true in digital marketing, where buzz equals virality. A brand that successfully creates a buzz around its product/service has a significant advantage over its competitors: everyone is talking about it, anticipating its launch, trying to be the first ones to get it (sometimes even before they know what it's about); and in social media terms – its fans share, like and hashtag anything related to it.
If you truly want to grasp the power of buzz, think of the iPhone. Would it have the same success if not for the teasers, the dramatic launch events, the recruiting of influencers, the pre-orders and the creating of all that suspense? The iPhone is definitely a good product but it also has many worthy competitors today. And yet, many people worship it over any other device, and this is due in part for the buzz Apple is creating around the launch of every new version.
So what is buzz, exactly? A good definition for it was provided by Professors David Mothersbaugh (University of Alabama) and Del Hawkins (University of Oregon) who described it as "the exponential expansion of word-of-mouth". This expansion is the result of marketing activities that create a conversation and propel excitement and anticipation for a brand, a service or a product. Since a large part of brands' marketing activity today is online, many brands try to create a digital buzz by social media marketing, content marketing, paid ads and other online marketing channels.
In the last two decades, the internet's ability to make information spread far and wide has made the marketing potential of brands huge; on the other hand, the web is so chock-full of distractions that catching users' full attention is a great challenge for any brand. So how can brands create enough buzz online to make people notice them? These following strategies, adopted by leading brands, might give you some ideas.
1. Creating an online game with real prizes
Unless you've been living under a rock in the past five years, you've probably heard of "Game of Thrones". This series became a major hit worldwide, and this is partly due to the buzz HBO, the network broadcasting it, has been creating around it throughout its seasons.
A good example for Game of Thrones buzz is the twitter campaign HBO created for the show's fifth season last year, using the hashtag #CatchDrogon. On the day the season's first episode was aired, fans were requested to catch Drogon the dragon with a GIF bait from a dragon bait store hosted by GIPHY, or one they've created on their own. In the case that Drogon showed up, they had to quickly retweet it before he flew away.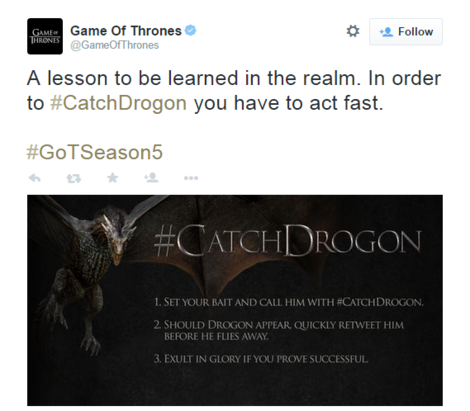 People who succeeded in capturing Drogon received funny response tweets from the series' official Twitter account, and several lucky few were even sent special prizes:
In one day only, this campaign succeeded in garnering 64,000 tweets, 6.6 million interactions and 1 billion impressions – and more importantly, attracted 1.6 million new viewers to the series. In recognition of these achievements, the #CatchDrogon campaign was named a nominee in the 'gamification' category of the 2016 Shorty Awards – and won.
2. Collaborating with influencers
Brands that are less well-established than Game of Thrones may have difficulty creating a buzz in the media if they don't have enough followers. In these cases, it might be a good idea to join forces with well-known internet influencers – celebrities with a large following, bloggers, Youtubers, Instagrammers, etc. – so they recommend the brand to their followers.
Alaska Airlines wished prospective clients to know about the stunning destinations it can fly them to. The airline recruited 8 leading travel Instagrammers to post photos of places it had flown them to, accompanied by the hashtag #WeekendWanderer. These Instagrammers had about 500,000 followers combined – which was a pretty great reach for a relatively small airline.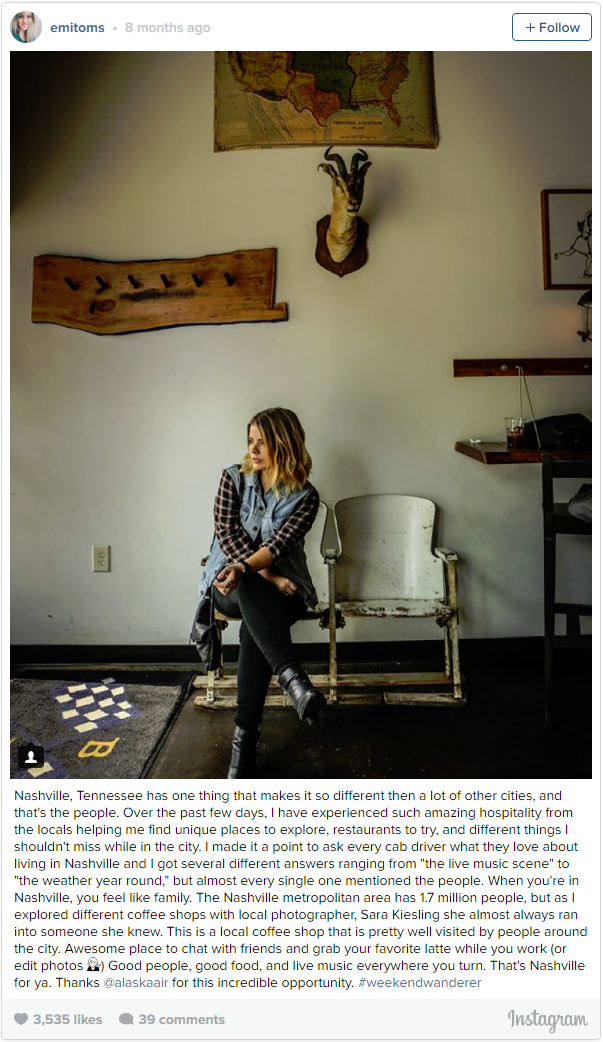 3. Creating mystery and suspense
A common strategy for creating buzz is building suspense and a sense of mystery around a brand, by spreading hints, teasers, rumors, etc. about it. Apple is an expert in using this strategy: long months before a new product is launched, rumors about it start spreading everywhere and becoming headlines in different media outlets, which throws Apple fans into ecstasy. When the company finally makes an official announcement, it sets the date the product will be available to purchase months away. Naturally, when the product comes out, millions of units are purchased within the space of a few days.
Artists who are well-versed in social media are especially adept in throwing around hints about their upcoming albums or tours. In 2014, Coldplay was about to release it sixth album, "Ghost Stories"; to promote it, the band tweeted that it had hidden lyrics to the songs (handwritten by lead singer Chris Martin) in 9 libraries around the world. Fittingly, the lyrics were placed inside ghost story books. One of the envelopes containing the lyrics also contained a ticket for two to London, which included a Coldplay concert. To help fans find the lyrics, the band tweeted hints about the libraries' locations.
The creative campaign was covered by leading websites and magazines like Time, People, The Guardian and AdWeek and praised by marketing and advertising experts.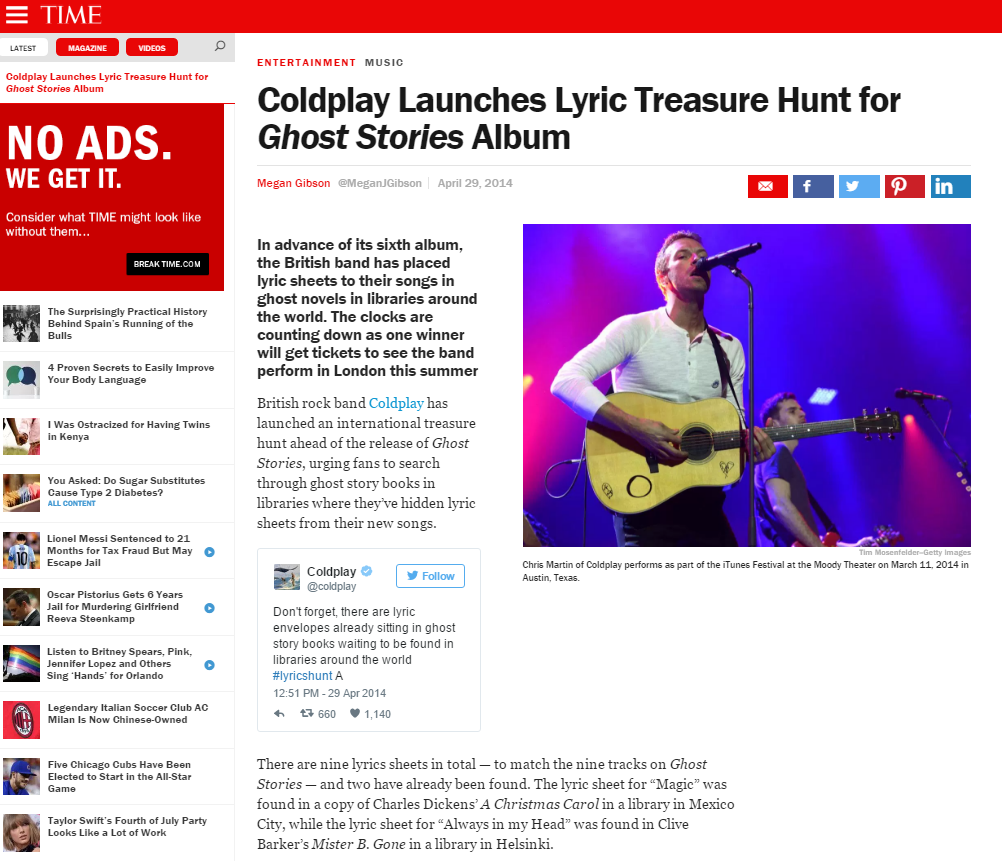 4. Using crowdfunding platforms
Not only do crowdfunding platforms help raise money for projects that are difficult or time-consuming to fund in other ways, but they also have the potential to create a buzz around these projects and make them go viral. The advantage of using these platforms is that anyone who makes a donation becomes invested in the project's success – for both their sake (they want to receive the reward) and the project initiator's sake.
An outstanding example which received global headlines was the crowdfunding campaign for Exploding Kittens, a card game created by the well-known web cartoonist Matthew Inman (creator of humor website The Oatmeal), Elan Lee (XBox, ARGs) and Shane Small (XBox, Marvel). The game was put up as a project on crowdfunding platform Kickstarter, asking for merely $10,000 from donors. It reached the goal in minutes, and kept getting more and more donations; it earned nearly $1.3 million in its first day. On the project's completion, a month after its launch on the platform, 219,382 backers had donated no less than $8,782,571(!).
Exploding Kittens has become the 3rd biggest Kickstarter of all time as of today; at the time, it became the most backed Kickstarter project of all time, when it still had 22 more days to go. The creators attributed their incredible success to the fact that "people love kittens and people love explosions"; but it's probably also related to The Oatmeal's insane popularity online.
This was the campaign's launch video:
5. Creating an atmosphere of exclusivity
It's a well-known fact that the rarer and more elusive something is, the more we desire to obtain it. This basic human trait can be a buzz propagator in almost every industry. Many brands periodically launch limited editions of unique products; glittering VIP parties always limit the number of guests in advance or simply demand a very high entrance fee which only few people can afford.
The attempt to obtain the object of desire, be it a product, a service or a ticket to an event, manifests itself in impossibly long lines, endless waiting lists and working all the possible connections we have to get that object. And when it's finally in our hands, telling other people about it (on social media and through other channels) is the trivial thing to do. After all, we want to be shrouded in that misty exclusivity halo, too.
Two years ago, smartphone manufacturer OnePlus decided to entice potential clients using this strategy exactly. The Chinese company marketed the device using email invites: only people who were received email invites from the company could purchase its first smartphone, OnePlus 1, and then send invites to their friends. Invites were also sent as part of contests and other marketing activities employed by the company. OnePlus's rationale for using this method was that it preferred to know the demand for the product in advance so it wouldn't manufacture too many devices and risk losses.
Another probable motive for using this type of marketing was to create the demand for this product. Indeed, demand was so great that the website's traffic reached insane numbers: 25.6 million visitors within a year of its launch. In a little more than year, the company had sold over 1.5 million devices, and these days OnePlus 4 is on its way.
To learn more about OnePlus's "guerrilla marketing", watch this video:
6. Giving fans a "behind the scenes" peek
Another basic human trait is the wish to discover secrets and knowing what's happening before anyone else. Brands cater to that need when they purposely release behind the scenes tidbits, such as photos, interviews, videos etc, which uncover  previously unknown information. Naturally, fans pounce on those tidbits and spread the news excitedly, and voilà – the buzz is created.
A recent example of a brand utilizing this strategy is the well-loved series "Gilmore Girls", which is set to air its four-episode revival on Netflix later this month, nine long years after its seventh and final season. The plot is being kept secret , of course – so secret, in fact, that until recently no one was even sure which members of the cast (excluding the show's two main characters, Lorelei and Rory) would be coming back.
Last summer, when the actors were shooting the revival, they made clever use of their Instagram accounts by posting photos from the set, which set fans into a frenzy of guesses. No crucial information was revealed from the photos, though; they only served as teasers.
Here are a couple of Instagram photos shared by Lauren Graham (who plays Lorelei Gilmore) and Scott Patterson (who plays her long-time love interest, Luke) which were shot on set: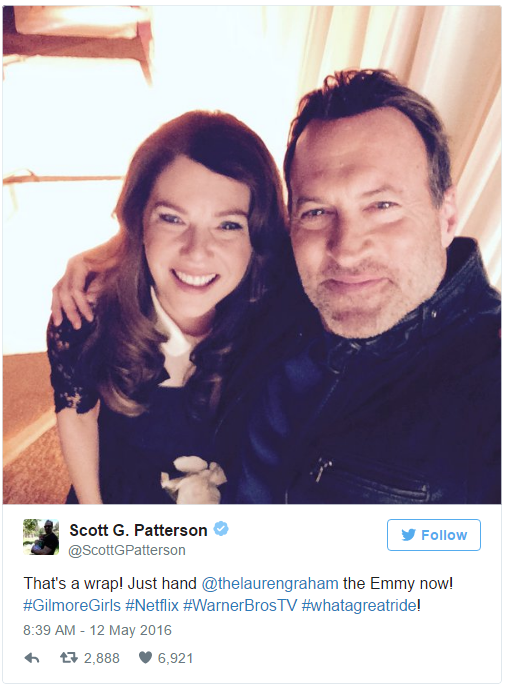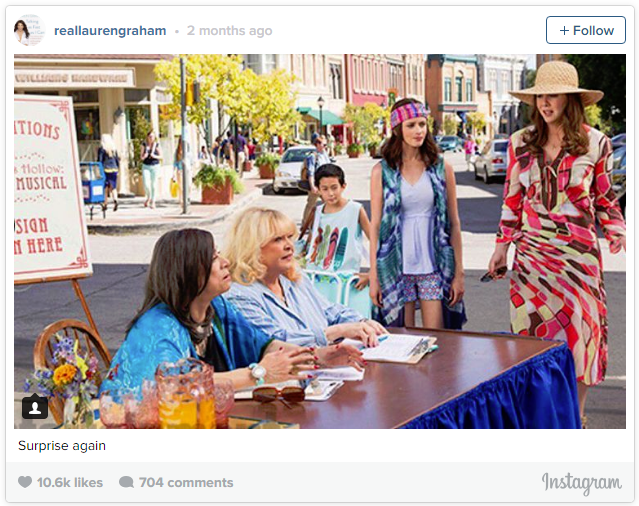 Conclusion
I hope the strategies listed above have inspired you to create your own buzz-worthy campaign. Are you familiar with other methods of creating online buzz? Do you have examples of other brands who have created buzz in original, surprising ways? Share your thoughts with us in the comments section!
=======================================================
We're an SEO Company based in Israel, and as part of the Angora Media Group, we provide Enterprise SEO Services to both local companies and those from abroad. Our clients come from a range of industries, from modern tech companies and startups, like Payoneer and Feedvisor all the way through to jewellery companies like Onecklace and local providers like restaurant-furniture.net.
You can view some of our SEO Case Studies here.